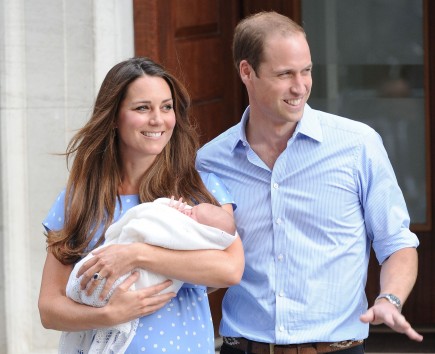 By April Littleton
According to UsMagazine.com, a day after Kate Middleton gave birth to a healthy boy, both parents decided to show him off to the world. The happy couple emerged outside the Lindo Wing at St. Mary's Hospital. In a statement released Tuesday, July 23, the first-time parents said, "We would like to thank the staff at the Lindo Wing and the whole hospital for the tremendous care the three of us have received."
How do you introduce your newborn child to friends and family?
Cupid's Advice:
The arrival of a newborn can be challenging, especially if it's your first child. It comes to no surprise that your friends and family will want to see the baby as soon as he/she is allowed to go home with you, but it's best to introduce your baby to a small amount of people little by little. You don't want to overwhelm yourself or the baby will loads of people hovering around you. Cupid has some tips:
1. Start with family: Introduce your new baby to your family first. Start with your parents and your partner's parents. Don't allow all family members to come and see the newborn all at once. Doing this could cause your child to become irritated and the stress of so many people surrounding your baby might cause you to become frustrated as well.
2. Let close friends visit: It isn't healthy to have your newborn outdoors for long periods of time. Since your baby is so young, he/she can catch an illness quicker. If you're really anxious for your friends to see the baby, let a few of them come to you. Invite one or two friends over to your house when your baby has been fed and is ready for a little interaction.
3. Social media and video chat: Some of your friends and family might not live in the same state as you. In this case, take a few pictures of your newborn and post them to Instagram, Facebook or whatever social networks you use. Also, it would be a good idea to video chat with some of your distant relatives. It's not as personal as a live visit, but it's much better than just looking at pictures.
How did you introduce your newborn to friends and family? Comment below. 
Connect With Cupid...
---
Comments