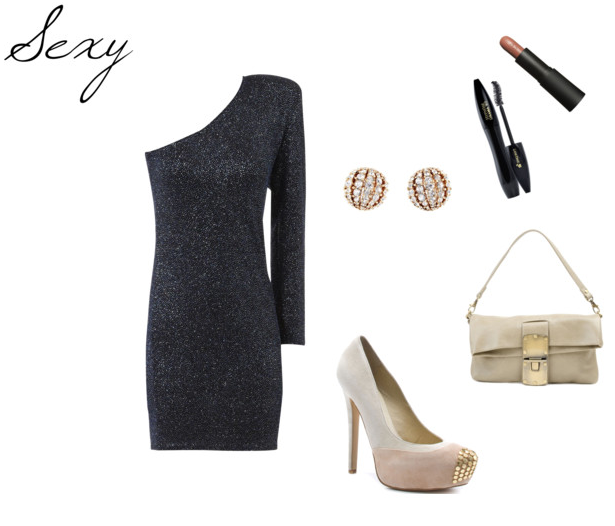 By Sarah Thaman
Excited about an upcoming Valentine's Day date?  Even if you're going out with your husband or long time bf, it's a great excuse to shake things up and go out for a night on the town.  Lost on what to wear?  Never fear!  I'm here with three different looks that are sure to please you and your man.  Here's the first one:
Go for an understated, sexy look this Valentine's Day. Instead of baring it all, choose a dress with a fair amount of coverage, and just the right amount of skin.  This one-shoulder body con dress is sure to do the trick.  Plus, it's navy, which happens to be the new black.  Keep accessories nude and minimal to bring the focus to your face.  A nude lip and smokey eye would pair beautifully with this look, and so would a low messy bun.  The clutch purse with a large buckle is a great match for this look!  Be fierce and fabulous in this sexy look.
Enjoy a romantic night out looking fabulous!  For more Valentine's Day inspiration visit this Gal's Guide to Valentine's Day!
While Sarah Thaman may not be a professional stylist, she prides herself on choosing fashion that looks polished and classic, and she's always helping friends choose their date outfits.  Although she's a writer for Handbag Heaven by day, outside of work she takes joy in being a matchmaker, a newlywed, and a momma to her precious puppy, Luna.
Connect With Cupid...