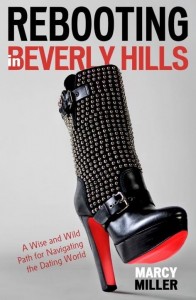 By Deanna Atkins
From catching her husband cheating to combating breast cancer, there's no doubt that former lawyer and author, Marcy Miller, is a survivor. Sure, everyone has gone through a breakup, but Miller's memoir, aptly titled 'Rebooting in Beverly Hills,' covers so much more than your average heartbreak. She shares a witty and humorous account of finding herself at the age of 45 after two devastating divorces. Whether you've settled down with the man of your dreams or just recently found out the guy you loved is gay, anyone can relate to the challenges of twenty-first century living, dating and loving. We had the opportunity to chat with the Hollywood writer, and she unveiled her biggest fears and challenges as well as her love lessons learned.
What were your biggest fears as you re-entered the dating world after divorce? How did you overcome them?
For me, one of the biggest fears had to do with physical intimacy. In 2000, after being diagnosed with breast cancer, I had a mastectomy, and I hadn't been with a man other than my husband since. I'm very proud of my reconstruction, but I feared what a new man's reaction would be to my naked body. What I learned is that we all have something that makes us feel self-conscious. Frankly, it wasn't an issue, so I was able to relax.
Why do you think women are more hesitant to get back into the dating world following a divorce?
No one wants to be heartbroken again. In order to fully put yourself out there, you have to take risks. If you protect yourself too much, you're not going to be relating to men and other people in a way that allows relationships to develop. It's a leap of faith to say, "Okay, I'm going to go back in there even if that means my heart's going to be broken again." I think it takes time to heal, to get yourself together. But it's important to be proactive. If you don't come up with a strategy to get back into the dating world, then you won't get past that passive-negative mind set.
You write that every woman needs a 'BGF' (Best Gay Friend). What can he offer you that a female friend cannot?
A gay-man friend sometimes sees things differently than a girlfriend. My BGF feels comfortable asking me, "What is wrong with you that you think this time will be easy?" Through humor, he can say to me, "Knock it off! Stop wallowing in self-pity." For some reason, you take criticism a lot better from a gay friend. Maybe because those sort of things aren't often said by a girlfriend. Women tend to want to make you feel better, while a gay friend can just let you have it – which is what you need at times.
Some women get offended when their friends try to fix them up. Why do you think that's the case? What are they missing out on when they say no?
That is my number one rule: do not say no to a fix-up! A fix-up is your best possibility of meeting someone; it's a pre-selected date. Somebody who is nice enough to fix you up already knows who you are and also knows a nice man who seems like the type of person you're trying to attract. That doesn't mean you have to go out for a long dinner or evening of dancing, but why not have a drink or meet for a cup of coffee? It's a huge mistake to ever say no to that.
Related: How To Ease Your Nerves Before a First Date
What is the most important lesson that you learned as you were looking for love?
That's a really tough question, but I think the hardest lesson for me was to realize that I had to be able to bless my ex-husband - and mean it – in order to get on with my life. I would only be ready to attract the right man if I had totally forgiven him. His actions were unforgiveable, and it took me about four years to do it, but I had to truly forgive him in order to free myself.
What's the biggest takeaway that you hope your readers will discover from your book?
I hope my story will help people because there's a lot of practical advice in there. But if nothing else, I hope that they'll be inspired to keep trying. We all kiss a lot of toads before we find our prince, so enter into the process with a sense of humor and a sense of joy. Know that those experiences are just adding to the tapestry of your life.
Related: Five Top Tips On How To Find 'The One'
And finally, what do you think is the biggest challenge of searching for love in the modern dating world?
To me, it seems like there's almost too much social media. We're bombarded by all of these different options of communication. There's a whole new set of etiquette that isn't discussed anywhere yet. Like, how many times do you email someone before you speak on the phone or meet in-person? Do you Google your date before you go out with him to ensure that you have things in common? Or is it more fun to discover these details during the date? In many ways, it's easier to meet people with the Internet, but it does come at a huge cost.
To learn more about fix-ups, pick-ups and the craziness of modern dating, pick up a copy of Rebooting in Beverly Hills. Her smart, attractive humor will keep you laughing and learning. Be sure to check out her Facebook and blog on Huffington Post.
Connect With Cupid...